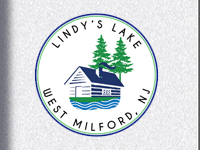 ---
This website is privately maintained for the benefit of Lindy's Lake Association and its members.

---
Lindy's Lake members are stewards of a beautiful natural resource. Please do your part to maintain the jewel of our community

---
more>
---
Welcome to Lindy's Lake
Lindy's Lake is located in West Milford, New Jersey, the heart of the Highland's Preservation area. Known for its charming homes, which are reminiscent of its history as a bustling vacation community in years past, Lindy's Lake is now a full-time private residential community.

The Lindy's Lake Association (LLA)
Lindy's Lake is maintained by the Lindy's Lake Association (LLA), a privately-held corporation owned and supported by the 222 property owners who fall within the geographic boundary of the original Lindy's Lake sub-division. For more information on the history of the Association, click on the About Us link on the left.

To see a list of upcoming events, click on the Events link on the left.

---
We are encouraging all members to go paperless: email to: info@lindyslake.com to send us your email address(s) and also to let us know if you want to go Paperless.
Please include your name and property address.

---
Now accepting applications for all summer lifeguard positions

Deadline for applications is April 30, 2017

It's not too early to think about Summer!

The Board of Directors is now accepting applications for all summer lifeguard positions.

Anyone interested should mail their information to:
Lindy's Lake Association
PO Box 343
West Milford, NJ

All life guards must have the following certifications:
CPR Certifications must be Professional Rescuer or Healthcare Provider Level
Lifeguards for lake bathing must have Lifeguard training AND Waterfront Life guarding Certification
A copy of your certification must be attached.
All applicants must be currently certified or in the process of being certified.

Join us (Lindy's Lake) on Facebook
Share your pictures of Lindy's Lake & Lindy's Lake activities (both past & present)

LIKE our page (www.Facebook.com/LindysLake) to join the Lindy's Lake Facebook community, where you can view and share photos, videos, and stories about our glorious Lake and people. Stay up on the things that are happening year round on our Lake, on our beach, and at our historic, newly-restored Manor House and Speakeasy. Join us, and spread the word!

http://www.Facebook.com/LindysLake

---
Thanks for your generous donations
The following local businesses have donated items to the LLA Association.
We thank you VERY much!





---
Properties that are deed restricted to the Lindy's Lake Association (LLA)
Streets
Cliffside Dr
Highview Dr
Hudson Dr
Lakeview Dr
Lindy's Dr
Maple Rd (limited to 234 to 330 except 241 & 261)
Otterhole Rd (limited to 537 to 645)
Schofield Rd (limited to 158, 164, 168 & 170)
Seymour Dr
Shale Dr
Spinnler Dr
Upsala Path
Woodside St
Block & Lots
10701 1-10
10702 1-29
10703 1-16
10801 1-20
10802 1-4
10803 1-23
10804 1-5
10805 1-16
10806 1-2
10807 1
10808 1-58
10809 1-4
10810 1-11
10811 1-8
10812 1-6
10813 1-3
10814 1-6
10815 2-9
10816 1-7
10817 1-12
11301 14 only
---
The Lindy's Lake Dam
Lindy's Lake Dam is comprised of a 650-foot long, 24-feet high earth embankment, an uncontrolled primary and secondary emergency spillway, and an outlet works. The dam impounds a reservoir of about 18.8 acres and contains approximately 124 acre-feet of water at the spillway crest.


---
Here are your 2016-2017 LLA board members:

| | | |
| --- | --- | --- |
| Steve Feigel | | President/Lake Ecology/Dam |
| Cindi Connors | 973-632-1651 | Vice President/Manor House |
| Doug Drada | | Secretary/Legal |
| Tania Silva-Rocha | | Treasurer/Manor House Rental/Beach Rental |
| Jane Litwinka | 973-208-5676 | Financial Membership/Web Master |
| Mario Klimczuk | | Roads/LLA Properties/Farm House |
| Steve Feigel | | Beach/Recreation |
| Lindy's Lake | 862-274-3437 | General Number |

click here to send us your ideas

More and more of our communication will be via email, so,
click here to send us your email address