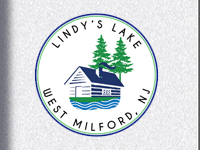 ---
This website is privately maintained for the benefit of the Lindy's Lake Association, Inc. and its members.

---
Lindy's Lake members are stewards of a beautiful natural resource. Please continue to do your part to maintain the jewel of our community

---
more>
We've started communicating via email: Click here to send us your email address

---
LLA Payment is due: March 1


---
LLA 2017 Tentative Calendar


2017/2018 Lindy's Lake Upcoming Events:
---

7th Annual New Year's Eve Gala
Date: Sunday, Dec 31, 2017
When: Doors open at 8PM
Where: THE LLA MANOR HOUSE
270 Maple Road
West Milford, NJ 07480
Please bring a dish to share, BYOB, your dancing shoes and a few logs for the fireplace
PLENTY of great door prizes
No Cost – All ages welcome, but MUST be a member in "Good" Standing


---
2017/2018 LLA Winter Meeting
Date: Sat, Jan. 27, 2018
When: 1PM-4PM
Where: THE LLA MANOR HOUSE
Please bring a few logs for the fireplace.
We will present the 2017 actuals versus the budget and we will present and vote on the 2018 budget. Please send us any questions that you would like answered by Sat, 20Jan2018. Click here to send us your question(s) We will make every attempt to answer them at the winter meeting.
All property owners in good standing are encouraged to attend.


---
--> Do you have an idea for an event? Click here to send us an email